Experience Gorman's premier specialty vehicle service facility and staff
If you're looking for a truly one-stop-shop, then look no further than Gorman Enterprises. We have the ability to diagnose, repair, modify, up fit, and fabricate just about any specialty vehicle job. With a 46,000 square foot state-of-the-art service facility, no job is out of the question. Our facility is clean and organized, and we're constantly investing in the latest equipment so we can properly tackle the services we offer.
We have (3) 4-post lifts, (2) 2-post lifts, and a (6)-unit mobile lift capable of lifting up to 108,000 lbs (equivalent to lifting an aerial fire truck). Add on top of that diagnostic scanners, AC filling stations, a 63′ paint booth, PPG paint mixing room, several 220amp welders, a 95-ton 8′ press brake, an 8′ metal shear, plasma cutters, mobile Draft Commander pump test unit, and 3 road service vehicles, and there isn't much a customer can throw at us that we can't handle right in-house.
Along with a premier facility we have a more than capable staff. Our professional and courteous technicians have years of experience, are ASE, EVT, and PPG certified among many other certifications, and are factory trained by our manufacturers and countless other vendors.
Come experience the difference at Gorman Enterprises where we've been building, selling, and repairing specialty vehicles since 1981. You will never need to go anywhere else for your specialty vehicle service needs again!
Looking for information on our 24/7 emergency service? Call Jeff Caliano at (716) 435-1064 for assistance.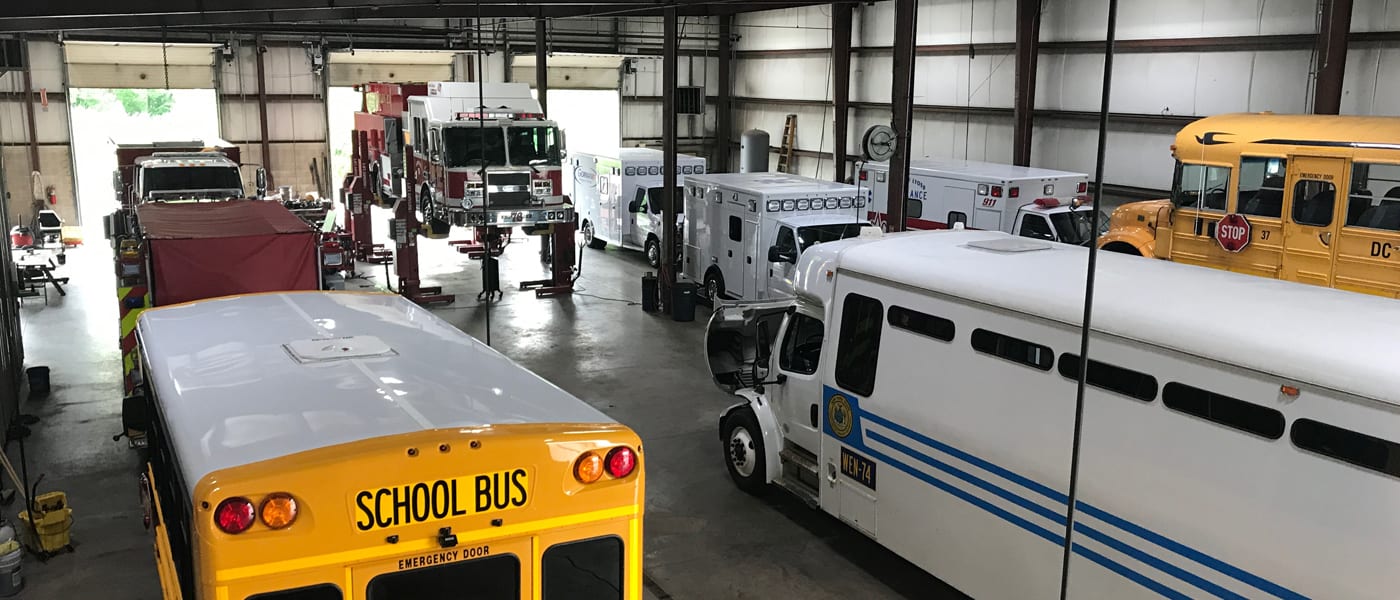 Preventative Maintenance
No matter what type of specialty vehicle you have–fire truck, ambulance, or a bus to name a few–scheduled preventative maintenance can go a long way to extending the life of that vehicle and saving money and downtime. Gorman Enterprises has preventative maintenance recommendations for all types of specialty vehicles and together, with the customer, we can develop a maintenance plan based on vehicle type, usage, age, environment, budget, and several other factors. With this method, we've been able to prolong the life of hundreds of specialty vehicle fleets.
Pump Testing
For our customers' convenience, Gorman Enterprises was the first service center in New York State to own and operate a mobile pump testing unit. Our Draft Commander 3000 Mobile Fire Pump Testing & Training Unit allows you to perform a true pump test from draft with clean water. Testing ensures that your engine and fire pump are performing with the correct horsepower and pumping the correct amount of GPM. With the Draft Commander, we can test your fire truck at your desired location at any time, offering simplicity, accuracy, and safety.
Remounts and Refurbishing
Whether you're remounting an ambulance, fire truck, dump truck, or any other type of vehicle body onto a new chassis, Gorman Enterprises has decades of experience tackling these jobs. No matter the structural, electrical, HVAC, hydraulic, or drive train modifications needed, we can get the job done. If you're not looking to remount a body but, instead, need to give you tired vehicle a face lift and repair a few items along the way, we can work with you within your budget to meet your goals.
Collision and Body Repair/Paint
No matter how extensive the damage is on your vehicle, Gorman Enterprises has the experience and capability to make it look and perform in tip-top shape. From a scratch on the fender to heavy-duty frame straightening and panel replacement, we've got you covered. We are one of the few specialty vehicle dealers in New York State to offer EPA approved, factory certified in-house painting; we are NOT outsourcing your vehicle to a third party. Our 63′ long paint booth with 14′ overhead doors is one of the largest in the region, able to fit the biggest vehicles.
Custom Fabrication
We have the ability to cut, sheer, bend, form, MIG or TIG weld various alloys of steel and aluminum in-house. We can also fabricate with wood, plastics, and other materials. Whether we are fixing, modifying, or building a custom item from scratch, there's no project we can't tackle.
Pump Repair
Gorman Enterprises has experience repairing Hale, Waterous, and Darley water pumps and plumbing systems with mild to catastrophic damage. Make sure your apparatus is performing as designed…we can help with that!
Mobile Service
We have three EVT and ASE certified mobile service teams that come to your location, whether your vehicle is in your fire hall, garage, or on the side of the road. We even offer 24/7 emergency service. We offer mobile service throughout upstate New York as well as Northwestern PA at our customers' convenience.
Gorman Enterprises Services Gallery
No project or service is too much for Gorman
We have the ability to diagnose, repair, modify, up fit, and fabricate just about any specialty vehicle job, including but not limited to the following fields:
Engine and Drivetrain (heavy or light diesel, or gas)
Brakes and Suspension
Electrical Systems (12-volt or multiplex)
Hydraulics
HVAC
Pumps
Upfitting
Collision
Paint
Contact us today about your specialty vehicle project or service needs!